We wanted to take the time to thank all of our volunteers, sponsors and donors (play-to-win, financial supporters, others) who have generously donated time/money/merch to make our convention the best it can be.
Volunteers
Sponsors/Exhibitors
Come find these fine folks in the Exhibitor Area at RinCon!
Anderson Wood & Resin
Bookmans Entertainment Exchange
The Card-iologist
Chaotic Rabbit Creations
Dark Attic Games
Fractured Brain Studios
Isle of Games
Korrosive Games
Lizard Llama Games
Magic Meeple Games
Norse Nerds
Rare Dragons Shop
Royal Manticorian Navy
SaReSai: The Art of Sarah Rebecca
Tucson Games & Gadgets
Twists and Turns
Unlimited Print Works
Donors
Abraxas Games
Anonymous
Binary Cocoa
Board Game Modder
Brendan LaSalle
Cherry Picked Games
CrowD Games
Dori L.
Epic Worlds
Gifford Gaming
Mari B.
Phoenix Fan Fusion
Rare Dragons Shop
Solid Rock Games
Spielcraft Games
Strange Aeon Games
Tony E.
Treasure Falls Games
Tucson Comic*Con
Wildspire Miniatures
There will be more donors added to the list as we are still cataloguing the bounty from our loyal crew.
Financial Supporters
Bookmans Entertainment Exchange
Isle of Games
Visit Tucson
---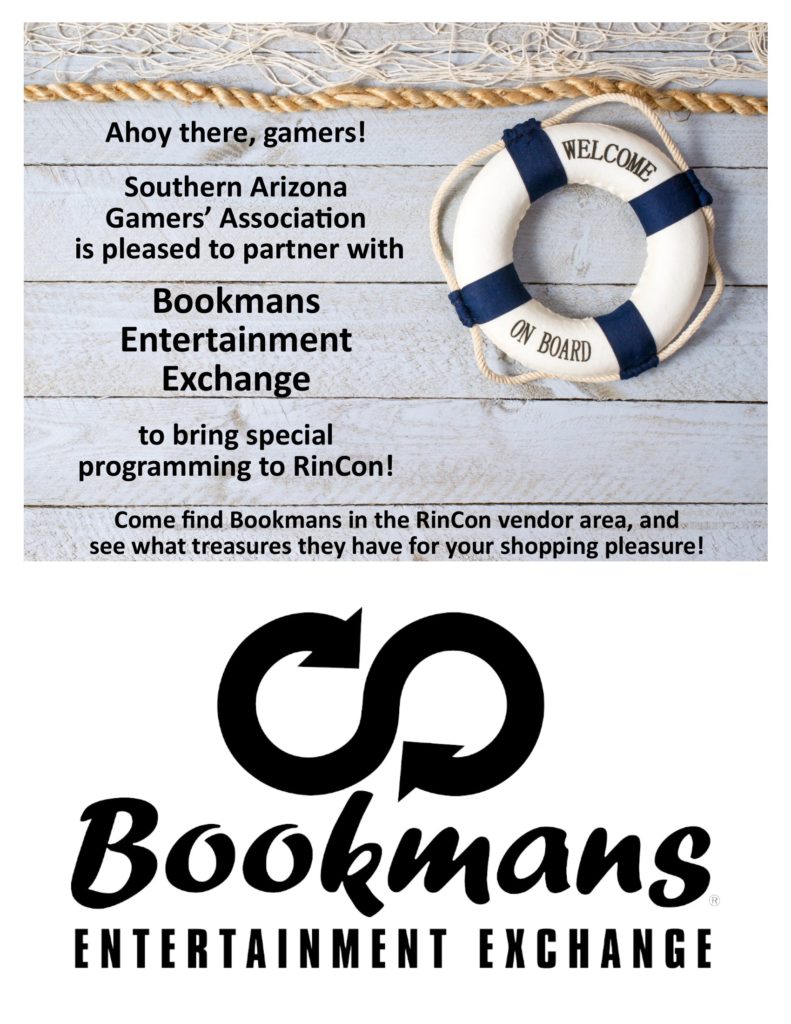 ---